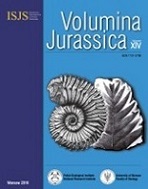 ISSN: 1896-7876, E-ISSN 1731-3708 | Scopus (Cite Score 2020-1.4) | MNiSW: 40
Volumina Jurassica is a peer-reviewed international geological journal edited by the Polish Geological Institute – National Research Institute and the Faculty of Geology, University of Warsaw, and supported by the International Subcommission on Jurassic Stratigraphy (ISJS) of the International Union of Geological Sciences (IUGS), devoted to publication of original research papers on all aspects of the Jurassic System including its boundaries with the Triassic and Cretaceous. The editors of the journal are scientists who study the Jurassic System and are from both editorial institutions. The editorial advisory board represents an international assemblage of specialists who are well known experts in different fields of the Jurassic System, including those which closely concern the ISJS – thus ensuring a close relationship between the editorial policy of the journal and the activities of that international organization. The journal is intended to be an international forum for the exchange of information on the Jurassic System all over the World.
The history of the journal began in 2003 when it was originally established under the name Tomy Jurajskie, changed afterwards (since 2006) into Volumina Jurassica, and edited at that time by the Faculty of Geology, University of Warsaw. Since 2010 the journal has been edited by both institutions, and has established a close relationship with the Subcommission on Jurassic Stratigraphy of IUGS.
Volumina Jurassica publishes both original research articles and reviews – special papers presenting a comprehensive analysis of material previously published. As well as these peer reviewed contributions, Volumina Jurassica publishes short notes detailing the progress in the activities of the working groups of ISJS, especially relating to recognition of the GSSP-s of the stages, discussions, book-reviews, reports and other short notes. These appear in the part of the journal called "News and Reviews" – which although indexed in the volume and revised and corrected (if necessary) by editors, are not peer reviewed.
Volumina Jurassica is published once or twice a year. It is thus a yearly publication, edited in one or two parts per year, depending of the number of manuscripts submitted. The language of the journal is English. The journal provides immediate open access to its content. It is published in a printed version and on-line. The on-line version (since 2011) is original. Volumina Jurassica is abstracted and indexed in: Scopus, BazTech, BIOSIS previews, Index Copernicus, Zoological Record, Biological Abstracts, Biosis Previews and Geological Bibliography of Poland.
Vol 21 (2023): Volume XXI
Table of Contents
Articles
| | | |
| --- | --- | --- |
| | Bruno R.C. Granier, Mohamed Benzaggagh, Serge Ferry | Volumina Jurassica Vol 21 (2023) 1-18 |
| | | |
| --- | --- | --- |
| | Horacio Parent, Enrique Ramos-Agustino, Armin Scherzinger, Günter Schweigert | Volumina Jurassica Vol 21 (2023) 19-26 |